Food
Sam's Club Shoppers: Find Bertolli® For Dinner Tonight!
By
|
This is a sponsored conversation written by me on behalf of Bertolli®. The opinions and text are all mine.
I'm pretty sure I represent the voice of millions of women and men worldwide when I express my annoyance with the everyday phrase — what's for dinner?
It's not the fact that I don't want to cook dinner, and much less that I don't like eating, but it's that daily routine of having to brainstorm dinner ideas, but not any dinner ideas, one that my husband will enjoy and the kids will want to eat. Because even though my kids aren't all that picky, they are moody, and I just never know what they'll be in the mood for.
My husband and I have agreed many times that If I weren't American and him Mexican, we would most definitely wish to be Italian, because having visited such beautiful country we had the opportunity to understand that not all Italian food are meatballs and spaghetti… Not that there's anything wrong with that of course.
I'd like to say that I'm great at Italian cuisine, but it's mainly the wide variety of Bertolli® Pasta Sauces that take my home cooking to a higher level. And speaking of Bertolli® Pasta Sauces, I've become a big fan of their Organic and Gold Label variety carried at Sam's Club, not only because they seem to remind me the most of my lovely trip to Tuscany (#BertolliTuscanTour), but because their quality glass containers are incredible for DIY crafts afterwards! I'm a nerd, I know…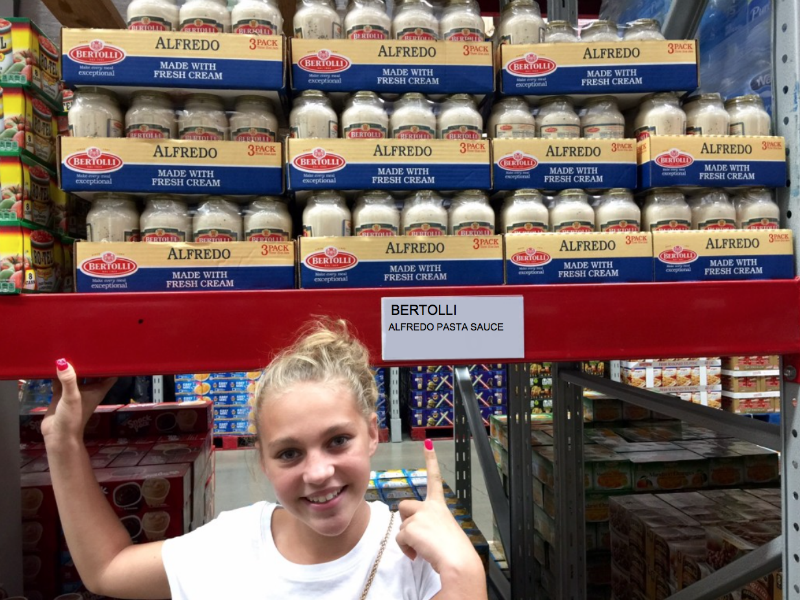 So while I was at Sam's Club with my girls we grabbed a pack of Bertolli® Alfredo Sauce to make some delicious pork chops with on a yellow rice pilaf covered in sauce. Sam's Club not only carries all of my favorite sauce flavors, but I love how neat the merchandise is always organized, it actually makes me want to buy them even more! If only my kids' bedrooms were that neat!
To me it's all about the moment you pop open the jar of Bertolli® Pasta Sauce and the delicious aroma of the carefully chosen, high quality ingredients lingers around, such aroma that can later be tasted on the finished dish at the dinner table. Nothing is more comforting than a plate of warm food in company of my husband and kids, regardless if it's a fancy crafted dinner, or a bowl of soup… family is the best ingredient for a great dinner!
Speaking of family values — Bertolli® is celebrating their 150th anniversary this year, so what a better way to celebrate than by bringing the delicious taste of their products and the convenience of Sam's Club into your home!
And be sure to check out Bertolli® on Pinterest!
This is a sponsored conversation written by me on behalf of Bertolli®. The opinions and text are all mine.